My coast
BRIT award winner and Grammy nominee KT Tunstall stormed onto the music scene in 2004 with her four million selling debut album, Eye To The Telescope. Drastic Fantastic followed last autumn to wide acclaim. Raised in St Andrews, Fife, she now has a flat in London and another in Edinburgh. In September she will marry the drummer in her band, Luke Bullen.
St Andrews was a wonderful place to grow up; safe, friendly and in a beautiful part of the country. My parents were very keen on outdoor pursuits, and we were constantly outside. If the weather was nice, we would all have lunch on the Castle Sands, a little sheltered bay beneath the castle ruins.
The coast has always been my favourite landscape. I love looking out across the sea, enjoying the thought of what lies beyond the horizon, the simple beauty, the knowledge that nothing can be built upon this vast, moving space and imagining the mysterious life that exists below its surface or the fantastic differences from one coastline to another.
My favourite stretch of coast is the East Neuk of Fife, Elie in particular. I spent a lot of time there as a child doing the 'chain walk', a training course of chains attached to the rocks. It was pretty perilous when the tide was in, but all the more fun for it! It looks almost Martian in places, and is so secluded you can't see any signs of human habitation. The light is absolutely fantastic, golden on the black rock.
I am drawn to the sea, whether it's in St Andrews or elsewhere. I took a trip to Dorset to write and fell in love with it. It has a real majesty and the weather was gorgeous. The Isle of Skye is also very special to me; the mountains are formidable and frightening and so impressive.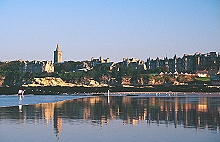 My ideal seaside day out would involve sun, friends, sandwiches, tea, frisbee, someone's dog, toes in the sand, a bit of a paddle &emdash; a swim if it's warm enough. And lots of seagulls.
My most important beach must-have is a hair band. I'm so used to wind, I know I'll end up with a mouthful of hair in my sandwich, so I make sure I tie it back or have a hat. I always like taking a friend, too.
I do my very best to lead as green a life as possible, both on a personal level and as a touring musician. So I'm naturally concerned about the future of the British coast. Some areas, Norfolk, for example, are facing a frighteningly fast decline. We must all do our bit to preserve the natural beauty of our country. It's amazing.
Sadly, when I'm on tour, there is very little time to explore. However, one coastline that caught my imagination was the Pacific North West of America &emdash; especially Washington State's Puget Sound. It was stunning and magical.
As for the future, I've always imagined living somewhere with a view of the sea. I'll have to wait and see if that dream comes true.
The wind in their sails Beautiful Britain
Going green in apple country Holiday Cottages