Going green in apple country
They are making a comeback in Herefordshire, old favourites with wonderful names like Stinking Bishop, Painted Lady and Yellow Huffcap. During World War Two they all but disappeared to make way for potatoes as part of the war effort. Now a growing band of enthusiasts are coaxing neglected survivors back to health and planting new stock from old strains. They are also reviving traditional methods of production. Not for them the gleaming machinery of Bulmer that processes 1,000 tons of apples a day in the autumn. Their fruit is hand-picked and hand-washed, the equipment they use for their finely-crafted ciders and perries differs little in essence from that of their predecessors a hundred years ago.
In the case of Lyne Down Farm on the edge of the Marcle Ridge it is exactly the same.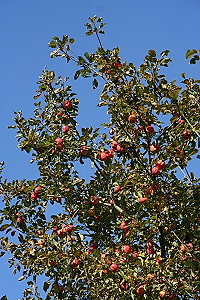 Carol Westlake crushes her fruit in an old wooden scratter and builds up her 'cheeses' in a 120-year-old stone twin-screw press. Harvest time is frenetic but friends and family rally round. "When we took over the farm two years ago we thought we would have trouble drafting in help but everyone loves it," she says with a smile.
It is the May Day holiday and I've dropped by after a morning in Putley, where I toured orchards sprinkled with blossom before calling in at the village hall to meet artisan producers and taste their wares. Some of the tables sported certificates awarded the previous evening at the Big Apple Cider and Perry Trials. "The atmosphere was so tense you could have heard a pin drop. It's nerve-racking being judged by your peers!" confides James Marsden of Gregg's Pit Cider and Perry as I sample his smooth, subtle perry which scooped first prize in its category.
The Big Apple spring celebration is an annual event and there is a second weekend in the autumn when you can eat and drink orchard produce and find out more about how it is grown and prepared. But any time is a good time for a Herefordshire cider experience.
An appropriate place to start is the Cider Museum in Hereford where you can trace the history of the amber potion — a feature of local life since Roman times. An extensive range of exhibits covers everything from a 300-year-old French beam press to a collection of beautifully illustrated 19th century pomonas. If all this makes you thirsty, Orchard Hive and Vine in Leominster and the Hop Pocket Wine Company in Bishops Frome both offer a huge selection of craft ciders and perries and an increasing number of pubs stock homegrown varieties.
At the Three Horseshoes Inn in Little Cowarne the local producer is Oliver's Cider and Perry, winner of the Flavours of Herefordshire Producer of the Year award 2003. My May Day experience has whetted my appetite and in bright July sunshine I have come back for more. Glass in hand, I settle down in the flower-filled garden where the previous evening Tom Oliver and his friends from the Three Counties Cider and Perry Association got together over a barbecue to sample each other's produce. "I thought they were bringing their best bottles but it seemed to be more of a clinic as they aired their problems and asked each other for advice," says landlady Janet Whittall.
This camaraderie and mutual support is typical of the Herefordshire craftsman. "Many of us operate on a very small scale. We learn from each other and we're not worried about trade secrets," explains Tom when I visit the family's mixed arable and livestock farm at Ocle Pychard. They also rent out a cottage, whose occupants are welcome to watch Tom at work or give him a hand if the time is right and they feel so inclined.
Ten years ago he started replanting the orchards grubbed up by his grandfather in the 1920's and although his apple trees are beginning to yield fruit it will be some time before the perry pears follow suit. "It takes 10 to 15 years before they produce a decent crop but by the time they are 50 you can make a whole barrel of perry from one tree. As the saying goes, 'Plant a pear for your heirs'," he reveals. In the meantime, he sources fruit from 20 or 30 different places scattered around the area, in some cases a single tree in someone's garden. He gathers most of it himself and brings it back to the farm to be milled, pressed and fermented in oak barrels.
His favourite pear is the Coppy, which is unfortunate as it is exceedingly rare. That is why he included several specimens in his nursery orchard, where he grows various varieties he might later bud on. At least he thought he did. The National Collection of Perry Pears which supplied the grafts has just discovered that they are not Coppies after all. Tom seems remarkably unperturbed. "You can never be sure what you've got until it fruits for the first time," he says. "Growing pear trees is a long, slow process and you have to keep re-evaluating. It's no good being in a hurry!"
Oliver's is one of 14 producers on the Herefordshire Cider Route which meanders through the gently rolling countryside of this time-warped, rural county. The largest is Westons at Much Marcle, founded in 1880 by Henry Weston and still run by the family. The courtyard has been transformed into an Edwardian garden in his honour and other attractions include a 1,000-strong bottle museum, a shop, a restaurant and guided tours of the site and mill.
Back in Putley, Dragon Orchard is where Norman and Ann Stanier run a unique cropsharing scheme. It all began when their wholesaler lost interest in their traditional Herefordshire apples, preferring to buy cheap fruit from abroad. Faced with the prospect of destroying trees that had belonged to the family for three generations they came up with their imaginative solution. For a yearly subscription of £300, members buy a stake in their produce. There are four annual events when they get together for picnics in the orchard, cider-making, wassailing and other activities depending on the time of year. At the end of each season they take away bountiful supplies of fruit, jam, cider and apple juice.
Dragon Orchard is a client of Janet Mackay, chairman of Big Apple and owner of Jus, also on the Cider Route. On her smallholding in Aylton she produces single variety apple juices, mostly for sale under her own label but she also juices fruit for other growers and private individuals with a few trees. She can't keep up with demand and although she produced 31,000 bottles last year she was down to 9,500 by March and by the time I turned up her storeroom was bare. Like Tom, she grows some of her own fruit and sources the rest across the county. She also shares his passion for traditional varieties. Her particular favourite is James Grieve, once common in Yorkshire but no longer grown commercially. "It's easily damaged and can't be picked mechanically. Even by hand you have to be careful. It's such a shame. It has a gorgeous flavour!" she says.
James Grieve was named after its creator. But where did the Huffcap perry pear get its name? Turning to a reference book, Tom Oliver comes up with several suggestions. It might be a corruption of rough cap, although lovers of handcrafted perry would dispute this description of the refined, complex drink. Or perhaps it originally described a beer so potent, it lifted the cap off your head. Then again, could it have been a toast? "Huff cap! Lift your cap!" Disappointingly his book reveals nothing about the stinking bishop and the painted lady. We decide that it is probably better that way and let our imaginations roam.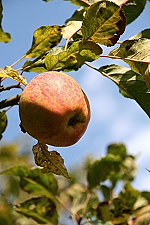 DID YOU KNOW?
Herefordshire produces over 63 million gallons of cider per year constituting around 60% of all UK production.
During the 14th century children were baptised with cider.
Farm workers used to receive part of their wages in liquid form.
During the reign of Charles II, there were more licensed cider houses than ale houses in London.
Half a pint of cider has the same health-giving properties as a glass of red wine.
Perry pear trees remain healthy and crop well for at least 300 years, more than twice the maximum life of the apple tree.
The largest alcohol container in the world, holding 1.6 million gallons, belongs to Bulmer.
Coast celebrity Coast
The wind in their sails Beautiful Britain