Special Educational Needs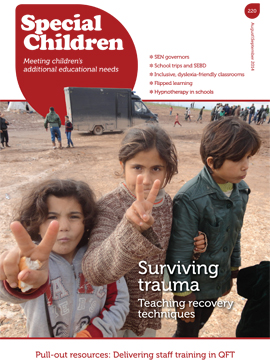 From 2011-2018, I was co-editor of Special Children magazine published by Optimus Education.

Together with my colleague Sophie Chalmers I created a lively, engaging publication with a very practical slant. Aimed primarily at Sencos, it is also read by classroom teachers, teaching assistants, headteachers and other educational professionals with an interest in SEN.

When we started out, we were both new to this field. The subsequent success of our work is testimony to many long hours spent researching material, establishing a wide network of contacts, editing or co-authoring contributors' articles and polishing our own until they shine.

The result is a balanced mixture of innovative case studies, practical advice pieces, insightful book and product reviews, a pull-out classroom resource and some unusual items that offer a fresh angle on familiar themes. In the context of SLCN, the depth and breadth of our work earned us Journalist of the Year 2019 from the Shine a Light Awards run by Pearson in partnership with the Communication Trust.

Alison is an excellent editor and writer. As co-editor of Special Children magazine, Alison has been instrumental in transforming the title into a high quality, lively, unique publication. She is dedicated to creating thoughtful, engaging content and pays exceptional attention to detail. It is a pleasure to work with Alison because she cares so much about what she does and has an unwavering commitment to her readers.
Jenny Lee, formerly content manager at Optimus Education, now digital content development manager at Pearson.
Sample article